Dr. Sayeh Naem DDS, Pomona Dentist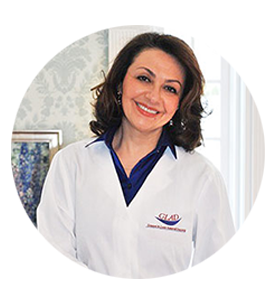 A Message from Dr. Naem
We pride ourselves on offering a unique blend of outstanding professionalism while maintaining down to earth interpersonal relationships. My staff and I are honored that you allow us to care for the dental needs of you and your families. In fact you are treated as if you are members of our own families. My greatest pleasure is treating the children of patients who were children themselves when I first started caring for them.
We are all very proud to be working in such a modern office. As such, the staff does a wonderful job keeping the office meticulously clean, following appropriate sterilization protocol. The care and concern you receive will be comforting to you. Do not be surprised to get a call from us in the evening or the weekend to see how well you are doing.
While there are many fine dentists out there, I feel the care you receive in our office is special. We are the first office in Rockland County to offer Waterlase® laser(drill-less) dentistry. We are also the first office in Rockland County licensed to perform, the FDA approved non surgical laser treatment for gum disease. We are proud of the fact that low dosage computerized digital x-rays have been offered to our patients since 1997.
Keeping current with therapies and techniques is an important part of my practice.
Continuing education plays a vital role, As recognition on my accomplishment, I have been honored by receiving award from department of Oral and Maxiofacial surgery, St Barnabas Hospital, for my excellent performances and fellowship from international congress of implantology (ICOI).